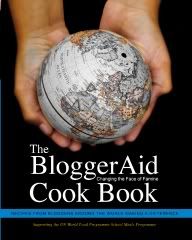 The WFP is the United Nations frontline agency mandated to combat global hunger and the WFP's vision for the School Meals programme is that no child should be hungry at school. According to the WFP's site:
❖ School meals can be used to effectively tackle hunger, nutrition, education, gender inequality and broader development issues. They transfer much needed income to food insecure households.
❖ Just US$0.25 will fill a cup with porridge, rice or beans and give a monthly ration to take home. With US$50 a child can be fed for an entire school year.
❖ WFP now provides meals to an average of 23 million children in school, about half of whom are girls, in 70 countries, at a cost of almost half a billion US dollars.
Food bloggers from across the globe have contributed their favourite recipes, truly making this cookbook an impressive international endeavour:
Through these recipes they share their traditions and insatiable curiosity about new flavours. They pay tribute to the home cooking of our grandmothers, while celebrating the exoticism and richness of a world brought closer together by their hopes to make a difference. With recipes such as Tomato-Cheese Ravioli with Eggplant Sauce, Spicy Serundeng Tuna and Peanuts, Serrano Ham Paella with Oyster Mushrooms, Raspberry Mascarpone Bites and Triple Layer Orange-Passion Fruit Tart we are doing our part to say that bloggers can change the face of famine.
If US$50 can feed a child for an entire school year, just imagine the possibilities if we all unite together to support this worthy cause! If you would like to purchase the cookbook and do your part to change the face of famine please
click here
.